Welcome to the ABCS website where we share information on each ride in the Series…just click on the ride you're interested in on our menu for details…check back often for updates!
---
2016 CHAMPIONS
---
What a wonderful celebration of CHAMPIONS and RIDE DIRECTORS we had over the weekend of January 27-29th at Guntersville State Park!  Directors from most of our 2017 events came together to make plans for 2017 and we celebrated the success of many Champions who completed 10 or more of our 2016 century routes!  What a good-looking group in their Champion jerseys!
We hope you're looking forward to this year's events and possibly taking home the 2017 Champion jersey!
More photos from the weekend event:
This slideshow requires JavaScript.
---
2017 ABCS Events
FENNER RIDE
We are very pleased and proud to announce our 2017 events including our "Out-Of-State Invitational" Fenner Ride in Milton, Florida.  We hope to inspire surrounding states to start up their own Series, to introduce our Alabama Rides to our Florida neighbors, and to ramp up numbers for this established event which benefits Big Brothers Big Sisters of Northwest Florida.  Success will mean we'll be looking at a new out-of-state ride to feature from now on as a one-time invitation. And, yes, Centurion medals will be awarded!
…ride through the beautiful Blackwater State Forest and take part in the Beaches to Woodlands Tour that occurs in Santa Rosa County, Florida each year.
October 21, 2017
           _______________________________________________________________________
 TRISTATES 100
This year's 13 events will stretch from one corner of our beautiful state to all others, beginning in April and lasting into November.
Our TriStates 100 in Dothan benefits the Dawn Pitchford Fund of Children's of Alabama and is known for its flat routes through Alabama, Florida, and Georgia.  This is a great opportunity for those who've worked up to a first century during our April-May rides, supporting distances of 30, 41, 69, & 101 miles…also a great chance to pedal your fastest century! TriStates always receives kudos on their fantastic routes, rest stops and volunteers!  You don't want to miss this one!
June 3, 2017
______________________________________________________
W.C. HANDY 100
In the opposite corner of the state is our W.C. Handy 100 in Florence. In its inaugural year in the Series, numbers jumped from 200 to 475 cyclists with 237 century riders. Offering 6 routes for all ability levels, including miles on the Natchez Trace, the Handy 100 is part of theW.C. Handy Festival. Plan to spend the entire weekend to enjoy some awesome "Shoals" music.
July 22, 2017
_____________________________________________________________________
GEARS & BEERS: BAYOU 100
We love introducing new rides and roads to you and are so happy to have invited Mobile's Gears & Beers: Bayou 100! Support the Delta Bike Project by pedaling 10, 30, 63 or 101 miles (draft route with just over 1300′ of climbing!). Headquarters at  Loda Bier Garten and yes, there will be beer, food, support, mechanics, fantastic rest stops (including one we'll tell you about later)! View all of the ride options and enticing route descriptions  on the ABCS website.
November 11, 2017
________________________________________________________________
And then back up north, we introduce the Spring Krusher in Elkmont. The ride benefits the counseling program of the Family Services Center, Inc. and supports distances of 31, 64, and 100 miles  in scenic Limestone County. 3 STRAVA segments will be identified with awards offered to an overall male and female rider. To make it more fun for everyone, one segment will offer an award to the fastest, one "middle man/woman" which will be the rider that has the middle time on a segment and one "Lantern Rouge" which will be the rider that brings up the rear!
May 6, 2017
_________________________________________________________________
CHEAHA CHALLENGE & ULTRA
We are extremely proud to include Jacksonville's Cheaha Challenge & ULTRA as part of the 2017 Series!  Director Brooke Nelson has definitely made a name for herself as an organizer, supporter, and athlete in her own right! Months ago she began the bid process to make the Cheaha Century the only qualifier in the United States for the 2017 Union Cycliste International (UCI) Gran Fondo World Championship …and SHE SUCCEEDED! This is very exciting news and we look forward to pulling riders in from all over Europe! For details, visit www.cheahachallenge.com and while you're there,registration is open!
May 21, 2017
_________________________________________________________
Now let's move to the Montgomery area where we have several rides this year.
TOUR AUTAUGA
Prattville's Tour Autauga will celebrate its 12th annual event and 3rd year in the Series, increasing numbers from 40 to 255 in that time! The Tour of Hope (19.6 Miles), The Tour for a Cure (37.4 Miles), Tour of Life (62.7 Miles), or the Tour for a Cause (101.7 Miles) are well supported with rest stops stocked with some super goodies such as ice cream sandwiches! Keep an eye on their great website for updates and why not just go ahead and sign up?  Registration is open!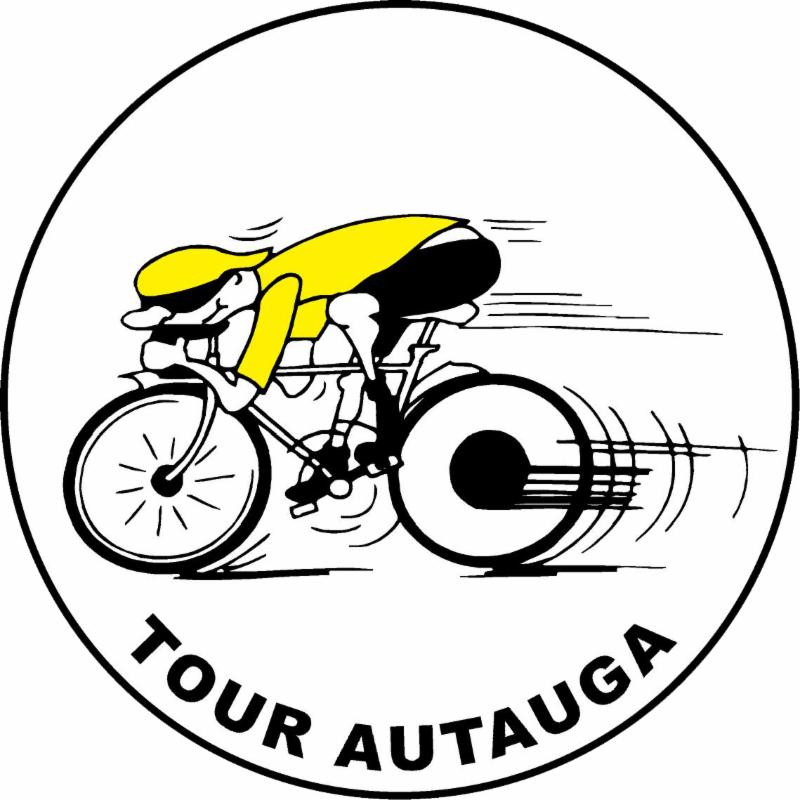 April 8, 2017
____________________________________________________________
CYCLING FOR SIGHT
After last year's Cycling for Sight, we had so many requests to add this event to the Series, how could we say no?!  Ride Director Zack Camerio has supported our rides, worked our rides, and pedaled them too!  This Lion's Club event is hosted by the Shoppes at EastChase, Blackfinn Ameripub, Ability Sport Network at Huntingdon College, and the Montgomery Bicycle Club, so you know it's going to be first class in venue and support!  Come enjoy the camaraderie of Team Novo Nordisk  as they ride alongside the kids from ASN. This ride supports distances of 20, 45, 65, and 100 miles.  Yes, registration is open!
June 24, 2017
_________________________________________________________
CYCLEPATHS CHALLENGE
The Series season will again kick off with Monroeville's Cyclepaths Challenge, known for great rest stops and super smooth road surfaces. For many years, the Cyclepaths Bike Club has supportedCamp Smile-a-Mile  by raising funds to donate at the Ride of Love. Now, all proceeds from their own event go directly to this beautiful camp for children fighting cancer. For the past two ABCS seasons, Ride Directors Dana & Terry Hornady have been Series CHAMPIONS, so they know the needs of cyclists on both long and short distances and put on a great ride!  Registration opening soon.
April 1, 2017
____________________________________________________________
GLASSNER AUTUMN CHALLENGE
The event that has always been known as our grand finale ride, the Montgomery Glassner Autumn Challenge, will now be referred to as the penultimate of the Alabama Series rides…this, according to Ride Director, Robert Traphan. He hates giving up that "finale" title but you can bet it will still be the same wonderful day that you've had in the past! He, his wife and Co-Director Bonnie, and the Montgomery Bike Club come together to produce one of the most professionally-staged events you'll ever take part in!  Known for their "radical hospitality," you'll start your day with a full sit-down breakfast, be educated and entertained via professional background recordings, entertained by theshenanigans of MBC members, pedal some of the prettiest countryside you'll ever see, and be pampered by awesome volunteers along the way.  The Autumn Challenge supports these five routes: Nutty Nifty Nines (18 miles), Smell the Roses (30 miles), the Fabulous Fives (55.5 miles), the Mad Metric Century (64 miles), or the Courageous Century (103 miles).
Registration is open!!!
October 14, 2017
_____________________________________________________________
And now on to our Birmingham-area events:
TOUR DE BLUE
As you've most likely seen our Moody Tour de Blue once again has some major competition and we hope that you'll choose this fun day in supporting the Urology Health Foundation, pedaling routes of 50, 76, or 101 miles in the scenic countryside of St. Clair and nearby counties.
T-shirts and lunch provided but be sure to register early and while you're at it check out the striking jersey they will be offering at https://tourdeblue.com. The Urology Health Foundation is devoted to promoting public awareness about prostate cancer and to providing free cancer screenings across our state, especially in underserved areas that are at highest risk. Ride your bike and support UHF!
April 29, 2017
____________________________________________________
NORTH JEFFERSON CENTURY
Gardendale's North Jefferson Century has made some changes after tremendous growth in their inaugural year in the Series. Hamburger Heaven will still be providing a fantastic lunch, but you'll enjoy spacious, air-conditioned facilities before and after your ride at the Gardendale First Baptist Church. Perks include plentiful parking, use of men's and women's locker rooms with showers, and cool conditions for your post-ride lunch. The Gardendale Women's Center has stepped up to coordinate and guarantee well-stocked rest stops and friendly volunteers…and more aid stations too!
Best news?  Registration is open!
August 26, 2017
________________________________________________________
BIRMINGHAM BICYCLE CLUB'S 44TH ANNUAL CENTURY
Our  Birmingham Bicycle Club's 44th Annual Century in Ashville deserves kudos for not only an extremely long-running ride, but an extremely long title!
Routes for everyone from the challenging 100 mile Century to optional shorter flatter routes of 25, 50, and 75 miles let you just enjoy the scenery and company of fellow cyclists. Headquarters are at the Ashville High School.
September 30, 2017
____________________________________________
Our Purpose:
To promote the growth and development of long-distance cycling in the state of Alabama, encourage participation in established Alabama century (100-mile) rides, recognize and reward individuals for their accomplishments, and benefit the charities and advocacy efforts supported by each of these events.
The Challenge:
Complete at least four of the Alabama Centuries (100-mile options)  in the Series.
The Rewards:
Receive a collectible "Centurion" Finisher's Medal for each (100-mile) century you complete.  
Upon completion of four century rides in the Series, receive an embroidered patch in the shape of Alabama, indicating each event location.  
Plus, your name will be listed as Centurion on this website as you complete each century route.
Ride 10 of our centuries and receive our free Primal Wear CHAMPION jersey!
Pedal all 13 century options and be in the drawing for a TREK Emonda ALR 5, valued at $1679.99!


---
OUR 2015 CHAMPIONS
---
OUR SPONSORS
We're very happy to have BUFFALO ROCK/PEPSI back as our PRESENTING SPONSOR, providing soft drinks, bottled water, banners, and Gatorade for each event and those big 10-gallon barrel coolers too!
PRIMAL WEAR is our supporting apparel sponsor, assisting many of our rides in the design of their unique jerseys. PRIMAL WEAR sponsorship allows us to offer awesome CHAMPION jerseys to those pedaling 1,000 or more of our Series miles!
We welcome ACADEMY SPORTS, offering several of our events a super Pre-Registration venue with plentiful parking and opportunity for you to pick up those last-minute supplies.  Pre-registering at Academy also makes you eligible for gift cards for a last-minute shopping spree…watch for news on which events will offer this opportunity!
BLUE CROSS BLUE SHIELD OF ALABAMA, sends best wishes for safe rides in support of health and wellness.  Please visit our SPONSOR page for more information from BCBS and our other supporting sponsors.
….the world's best bikes and cycling gear!
---
Interested in receiving our newsletter?  You can sign up here.